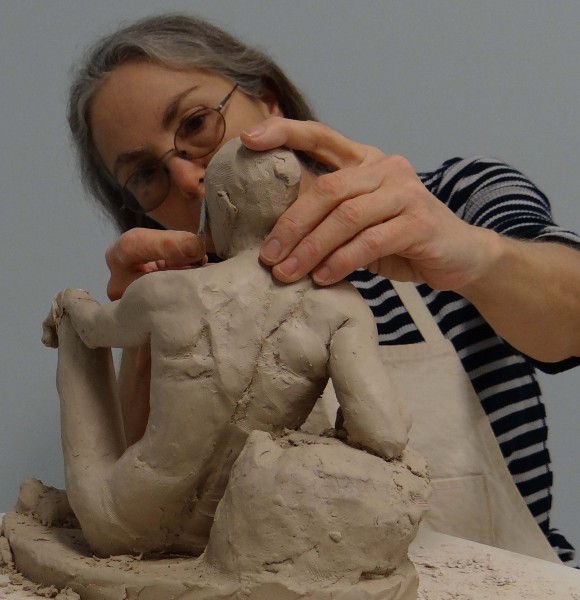 Janet Marion Simmons was born in Bristol, PA.  Besides a few forays to other parts of the east coast — living in Maryland, Washington, DC and New York City —  has not strayed far from her birth place of Bristol, and now lives on the other side of the Delaware River in Central New Jersey.
Education
From an early interest in drawing and sculpting,  Janet Marion went on to pursue art in college and receive a BFA degree from University of Maryland and an MFA from School of Visual Art, NYC.
Philosophy
Sculpture has a physical presence, it can be touched, be part of and interact with our environment.  The desire to create, not just an illusion on a flat surface, but a form in the round — stone flesh — is what draws Janet Marion to working in clay.   She uses human figures to capture the essence of an intense emotion, a state of mind, a quest or a story, and convey that message to the viewer.
Shows
TAWA Portrait Show 2004  The Gallery, West Windsor, NJ
Mercer County Artists Exhibition 2010  The Gallery, West Windsor, NJ
Art for Art's Sake 2010   Gallery 125, Trenton, NJ
Mercer County Artists Exhibition 2011  The Gallery, West Windsor, NJ
Ellarslie Open XXIX 2011  Ellarslie Museum, Trenton, NJ
Mercer County Artists Exhibition 2012  The Gallery, West Windsor, NJ
Mercer County Artists Exhibition 2013  The Gallery, West Windsor, NJ
Ellarslie Open XXX 2013  Ellarslie Museum, Trenton, NJ
Mercer County Artists Exhibition 2014  The Gallery, West Windsor, NJ
Mercer County Artists Exhibition 2015  The Gallery, West Windsor, NJ
Mercer County Artists Exhibition 2016  The Gallery, West Windsor, NJ
87th Juried Art Show at Phillips Mill 2016  New Hope, PA
Mercer County Artists Exhibition 2017  The Gallery, West Windsor, NJ
Ellarslie Open XXXIV 2017  Ellarslie Museum, Trenton, NJ
Arts Council of Princeton 50th Anniversary Exhibition  Taplin Gallery, Princeton, NJ
Plainsboro Library Art Group Exhibit  University Medical Center of Princeton Gallery, Plainsboro, NJ
Plainsboro Library One Person Show 2017  University Medical Center of Princeton Gallery, Plainsboro, NJ