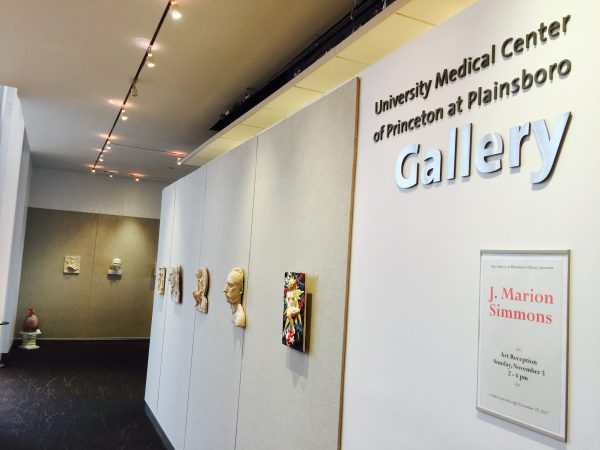 This past Sunday, November 5th was the opening reception for my ceramic sculpture show at the Plainsboro library in Plainsboro, NJ. It was my first one person show, much thanks to Donna Senopoulos at the library for all her work to help organize and set it up. The focus of the show was on ceramic portraits and reliefs that can be hung on the wall, plus a few free standing eggs. Other websites and blogs have covered the show, see: myCentralJersey.com, Liz Adams blog, and Art Lee's arrangement of pictures.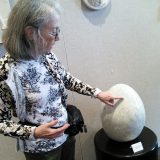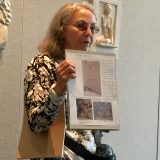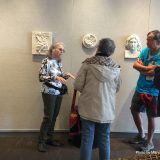 We had a nice turnout of art lovers. I did my best to answer questions and explain the involved process of creating the finished pieces. I start by formulating my own clay with characteristics for creating a smooth finish when fired and mix the different powders (clay, silica, feldspar) in a large clay mixer. Next, I de-air the newly mixed clay in a pugmill, and roll out a one inch slab as my "clay drawing tablet". After drawing out the figure, visage, or scene with a pointy stylus, I begin to add clay, building up the surface to create high relief for parts close to me, medium relief for the middle, and low relief for the background parts. It takes weeks to complete a piece, and then weeks more for the piece to dry before I can fire it to 2192 degrees Fahrenheit in the kiln.
My goal in creating a portrait is to subtly catch the mood and character of the face by using facial lines and expressions. I look for this person's life story, I pull up a chair and visit with them for a while. Faces have power and presence, they represent the soul of the individual. I love to study and capture the true image of the person in clay at a certain moment in time.
Reliefs tell a story often involving whimsical compositions, real life scenes, or quiet reflective moments. The reliefs are 3-D snap shots of a moment, feeling, or message where I can add background details to embellish the story.
Eggs… what is it about eggs that draws me to them, the sensual shape, the mystery, the representation of life at the genesis? Such a mysterious object needs a fascinating glaze, which is why I often apply crystal glazes to the surface. Crystal glazes are very runny when fired and can easily glide over the curved egg shape running down the sides creating a variety of crystals shapes on the way down. The lizard atop an egg is another theme of mine. The lizard represents a primitive state of feelings, and the egg is the prize of life.
When working on my portraits, reliefs and figures, I'm influenced by classic artists and sculptors of the Renaissance, Baroque, Neoclassical, and Romantic periods. The realistic, finely detailed sculptures of these periods take my breath away, I hope to convey similar feelings in the viewer with my art.